Visit Cape Town
Surrounded by Table Bay, Table Mountain, Lion's Head and Devil's Peak, it is here among the art deco buildings, the hustle of the open air markets and the side-walk cafes that you will experience at first hand the history and variety of culture that the Cape has to offer.
From the start of the "green season" in winter to the festivities celebrating the summer, Cape Town is a city that is big on culture, serving as ambassador to South Africa's unique heritage. The city's social calender is crammed month after month with must-see events from concerts in internationally renowned botanical gardens to sporting events of a global scale, to wine and cheese festivals strung out along one of the most scenic coast and valley routes in the world. Venture further afield out of Cape Town on to the garden route and you've got flower fields, whale watching and some of the world's most beautiful hiking terrain.
Oceans, mountains, vineyards, beaches and culture - everything you could desire is combined in a naturally beautiful setting.

Vibrant Cape Color
Wandering amid the old and new districts alike, watching the flavorful comings and goings as you pause for espressos along the bustling Long Street, the architectural influences are as diverse as British colonial, Victorian, Gothic and Cape Dutch side by side with unique bursts of Cape heritage.
+ Read more
Explore Cape Town
Take the revolving cable car (one of the most advanced rides of its kind in the world) up Table Mountain and walk it's flat top trails for 360-degree views of the Cape in its entirety - from downtown, all the way to the Winelands.
Cast your eyes toward Table Bay and you'll glimpse the busy Cape harbor, one of Africa's most important ports, combining a working waterfront backdropped to Table Mountain and recreation complex housing a foreign film art house, vast aquarium displays, farmers markets and seafood bistros, local and international designer shops, a Clock Tower, ferries to Robben Island, all to the symphony of seals, Cape gannets and honking boats.
A few minutes drive away from the working harbor the Atlantic seaboard turns to creamy sands from Clifton beach to Camps Bay, where the streets turn into palm lined promenade strips with ice-cream bars and sushi-cocktail lounges.
Chapman's Peak is a 600m winding scenic drive carved out along the steep mountainside offering spectacular ocean views and, in season, some fabulous whale watching. On through the pastures and Milkwood forests of Tolken's fantasies, past the historic South England-reminiscent naval towns with Penguin colonies, you're upon the Cape Point Nature Reserve home to even more stunning coastal views, tumbling cliffs, and spring flower meadows frequented by baboon and zebra. Heading back toward the wine-growing suburbs of Constantia, Kirstenbosch Botanical Gardens are a botanist's haven the world over with more than 22000 indigenous plants.
The picturesque area of the Bo-Kaap is criss-crossed by cobbled streets and lined with crayon colored houses and mosques. Originally inhabited by slaves from India, Madagascar and Sri Lanka, the area retains a distinct flavor all its own.
travel packages

echo date("M");?>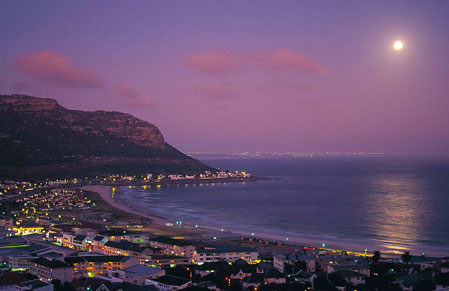 Get FREE nights on Safari and Cape Town with our all-new luxury safari package.
The exclusive IntoSouthAfrica.com package includes special touches to make your vacation a most memorable experience. The luxury travel package includes several special meal arrangements on safari inclusive of fine wine and deluxe private touring for two arranged in Cape Town (please see package for details). For the safari portion, experience a private game reserve located in the world-famous northern Kruger region in South Africa. This is one of the very best locations with the highest concentration of predators and migratory herds. It offers a vast expanse of pristine wild Africa, delivering a perfect first safari experience. A great introduction to the luxury safari lifestyle and premium big five game viewing. Very romantic and luxurious, with easy connections to flights between Cape and Johannesburg.
View this safari package
SAFARI OFFERS
VIEW SPECIALS
Questions?

+1 (415) 814-6676
USA Bookings: 7am - 5pm
Guided Safaris, Inc.
San Francisco, California