World Class Safaris
Ready for the adventure of a lifetime?
IntoSouthAfrica.com presents eco-friendly retreats in the World's Most Spectacular Wilds...
Best new South Africa trips for 2013
The preservation of the human spirit rests in the African wilderness.
Guided Safaris, Inc. was established in 1995 as a safari adventure company promoting conservation of remote wilderness reserves through exclusive, positive-impact tourism. We run our own operation base in Africa and ensure a strict no-hunting policy in all our safaris. In addition to never operating in groups, every safari is custom designed for our discerning guests through the unmatched expertise of local specialists based at our head office in San Francisco, California. The past 14 years have exclusively established our firm as the pioneering eco-luxury safari company in North America delivering a unique, tailormade experience for safari travelers, each visit contributing to the preservation of environmental hotspots unique to sub-Saharan Africa.
Today, our model of Conservation through Exclusivity supports a crowd-free environ and shares the benefits of income with local communities, sustaining long-term protection of these fragile areas for future generations.
We look forward to welcoming you to Africa this summer and hosting your special visit on this unique journey of a lifetime.


Book by echo date("F".' '."Y");?>
Between the two rivers of Sabi and Sand lies some of the best Big Five game viewing in Africa, all in private game reserves. In this exclusive environment, Guided Safaris host a series of unforgettable nights in one of the world's most sought-after safari getaways.


Botswana
magic
One of the most enchanting African journeys; extend your safari into Botswana and take a front-row seat on one of earth's most spectacular wilderness experiences. Breathtaking camps rest amid beautiful and untamed wildlife reserves in a forgotten African kingdom.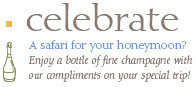 island safari
Dreaming of paradise? An exquisite archipelago of 115 islands off the coast of continental Africa, the Seychelles are one of the world's most alluringly romantic beach escapes.With convenient routings available direct from Johannesburg to Mahe Island, the pink sands and clear jacuzzi-warm waters of the Seychelles are just one click-away...

Some favorite safari recommendations
See our most popular South African journeys picked by travelers...
A unique and stylish luxury escape to beautiful South Africa
short on days? fly & stay on
the perfect safari getaway
in a private game reserve
experience the best of Africa;
pure safari wilderness and the
heavenly islands of Seychelles